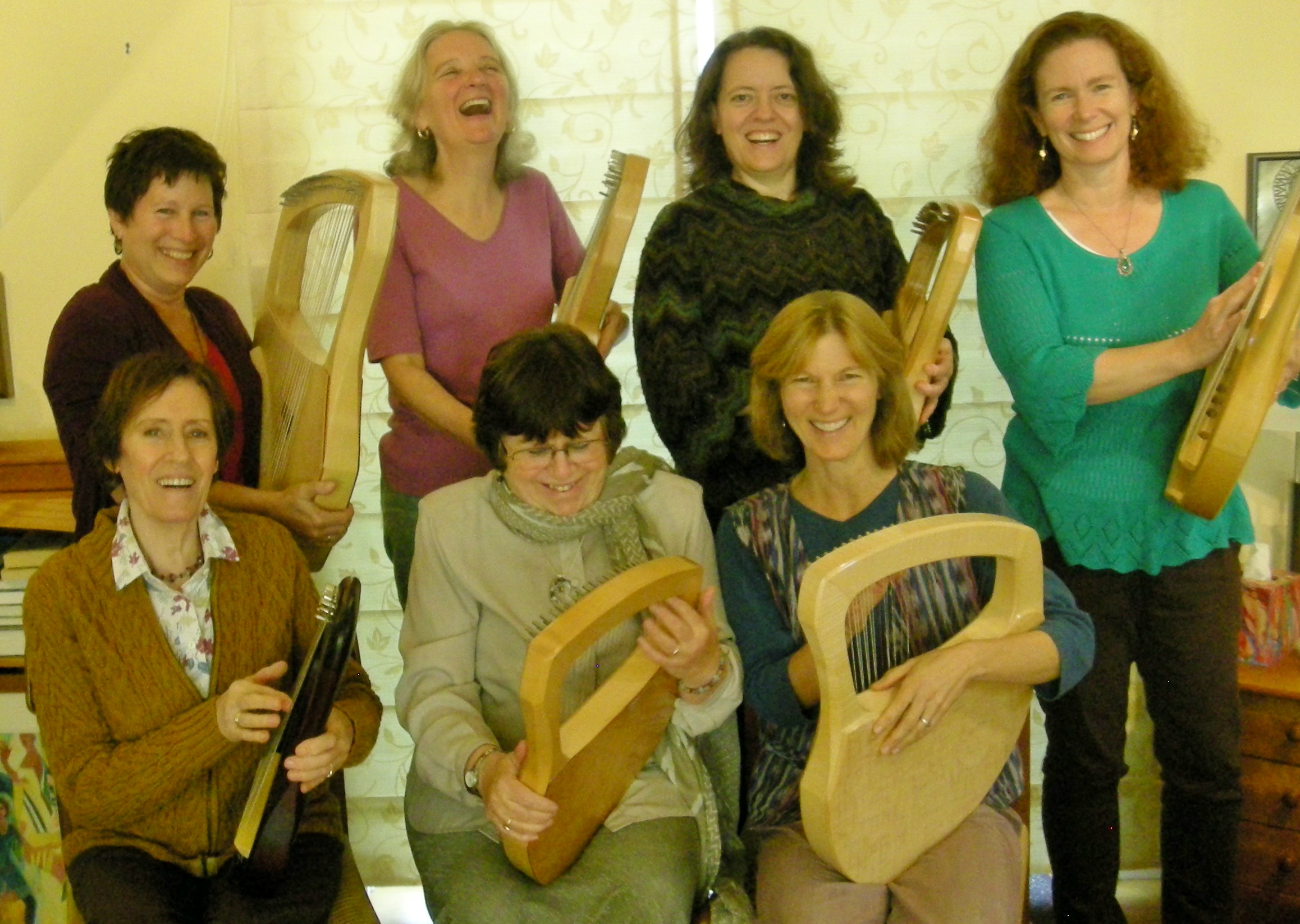 Spectacular colors flanked our passage from the Hudson Valley over the Berkshire range to the Pioneer Valley in western Massachusetts. The vibrancy of the brilliant landscape accompanied us as we prepared for our musical presentation, "Music in Tone and Word". Offered by the Hadley Lyre Ensemble, this was the first of two performances of music and poetry.
Conceived in recognition of 30 years of the Lyre Association of North America, these offerings were part of a larger celebration that spanned the U.S. throughout the past year. Under the direction of Channa Seidenberg, the Hadley Lyre Ensemble has played on various occasions in the Amherst and Hadley region, as well as in Hudson, New York.
We carted our instruments to the second floor of the Northampton Quaker Meeting house where large windows on three sides allowed the autumn light to stream into the room. Entering the open, high-ceilinged chamber, one sensed the calm and simplicity that pervaded. To begin the afternoon, the audience was introduced to the history of the modern lyre and how it was first developed in Europe. Channa shared the story of how the Lyre Association of North America was formed in the early 1980's. She spoke about the therapeutic, pedagogical, and artistic aspects of the instrument.
A diverse musical program followed, ranging from Bach to contemporary composers. Included in the afternoon's selections were pieces by two members of the ensemble. Our venue was transformed into a resonant space for the freed tones of the lyre. Poems were read by members of the ensemble.
At the conclusion of the musical offering, the audience was invited to stay afterwards for refreshments. Genuine interest and enthusiasm poured in. People who had no familiarity with anthroposophy or Waldorf education were fascinated to hear the special quality of the instrument. They were intrigued to learn more about the lyre and how they could experience more music of this sort. Some spoke of the peace and relaxation they felt. One woman said that as soon as the music started, she experienced all the tension leaving her body. A man commented that "the whole program, from beginning to end, was like a prayer."
The same program was offered the following weekend at Solaris Camphill in Hudson NY. Again, the members of the audience, numbering more than 80, spoke of feeling nurtured as they were invited to open their listening space. Those who had not previously heard the lyre were moved by its resonant quality.
Taken together, the two performances served as a testament honoring the impulse behind the lyre, and acknowledging its use in schools, at the bedside, and in life-sharing communities. Moreover, it reminded us of how the pure tones lead us to the future, and how this instrument has everything to do with spreading seeds for what is to come.
-by Catherine Decker margo.ketchum@gmail.com